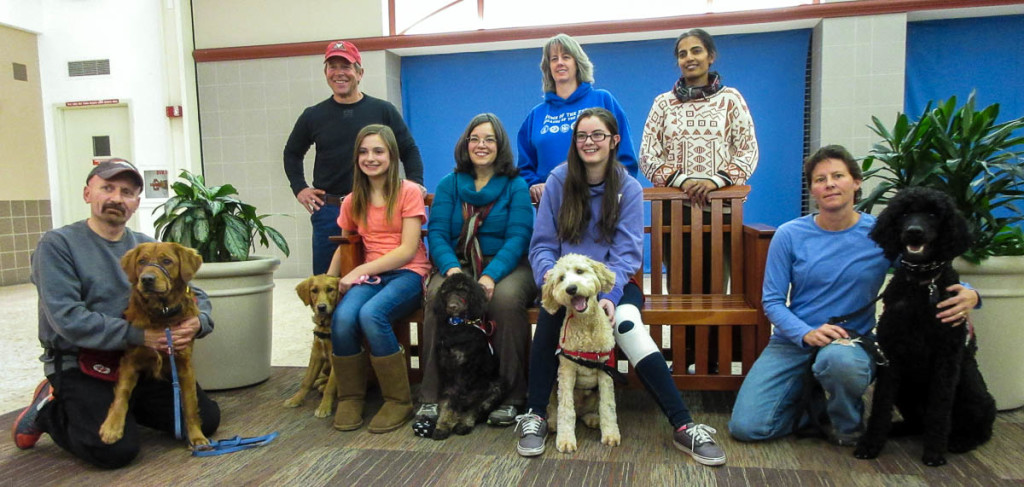 Paw Pals Assistance Dogs (PPAD) is a 501(c)(3) nonprofit organization that enhances the lives of people with disabilities, by providing highly trained assistance dogs and ongoing support to ensure quality partnerships. Founded in 2002, PPAD is located in Colorado.
PPAD raises funds through individual donations, grants and fund-raising programs and events. Paw Pals receives no government funding.We are an ALL VOLUNTEER organization. We volunteer – we are not paid to do the work we do, so all donations go directly to breeding, raising, training, placing and the ongoing and continued support of our graduate teams.
We train our dogs for 3 categories of service
Service Dogs assist adults over 18 years of age, with physical disabilities. These highly trained dogs enhance daily living tasks such as retrieving dropped items, opening and closing doors and drawers and pushing buttons for doors and elevators. Depending on the recipient's needs, they can also be trained to pull a wheelchair when needed. Service Dog training includes acting as balance assistants, helping people to steady themselves while standing or walking, and when getting up from a sitting or laying position. Service dog training is tailored for a specific person's needs, so they may get more intense training in one task and not in another.
Skilled Assistants help children (under 18 years of age), and adults with physical, or developmental disabilities or both, by performing many of the same functions as a Service Dog. This team will be "assisted" by a family member or a full-time caregiver or aide. Skilled Assistants provide the same love and companionship to their partner, and enhance their daily living tasks. Naturally, they also act as the bridge that allows the user to interact with more confidence, around those that may not have an understanding of their disability.
Facility Dogs are skillfully trained to work with professionals such as educators, care givers, or skilled volunteers in such fields as special education, physical and occupational therapy, or hospice care. Facility Dogs serve in reading skill lessons and motor function programs for students with special needs. In therapy situations, they engage patients in activities to stimulate faster healing and recovery. Their kind and giving nature make them acceptable to those needing comfort and unconditional love. Facility dogs do not have public access except in the facilities they serve.
Types of dogs we do not train
Paw Pals Assistance Dogs does not train:
Psychiatric Support Dogs
Medical Alert Dogs
Emotional Support Dogs (ESAs)
Seizure Alert Dogs
Hearing Dogs
Guide Dogs
Dogs privately owned by the individual
If you are looking for one the of these types of dogs, a good source for organizations is Assistance Dogs International (ADI). ADI has a search page for member organizations.